Today Guimaras is famous for its very sweet and golden variety of mangos.  Half of all exported mangos come from this island earning it the reputation of being the Mango Capital of the Philippines.  The largest event of the year, the Manggahan Festival (Mango Festival) is held here. Mangos continue to be a key source of income for most people on the island.
Quick Facts
| | |
| --- | --- |
| Languages | Hiligaynon, Kinaray-a, Filipino, English |
| Capital | Jordan |
| Area | 604 sq km (233 sq mi) |
| Population | 187,900 |
| Religions | Roman Catholic (95%) |
| Major Industries | Agriculture (mangos, palay, rice, corn, sugarcane, coconuts, jackfruit, bamboo shoots, pineapple, and cashew nuts), Fishing (milkfish, tilapia, oysters, and seaweeds), Livestock, Tourism, Mining, Weaving (basket, hat, and mat) |
| Known For | Mangos |
| Climate | Tropical |
| Best Time to Visit | February to May |
| Website | https://guimaras.gov.ph |
Climate
Guimaras has a tropical climate with a significant rainfall most months and a short dry season.  The dry season is generally November to April and rainy or wet season May to October.  March through mid-May are usually the hottest months.
Light and comfortable casual clothing is best here.  This includes shorts, t-shirt, and sandals.  At higher elevations and on the water a light jacket and pants might be needed.
Opinions differ on what is the best time to visit.  As with most tropical climates the weather can change frequently so its best to be as flexible as possible.  If you're looking for water activities, the summer season can start as early as February to May.  Others like to come to see the holiday decorations and lights between the months of September and December.  In the Philippines if the month ends in "ber", it's Christmas season.
Things To Do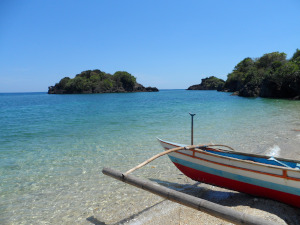 Guimaras may be one of the smallest provinces in the Philippines, but if you think that means there is little to do here you couldn't be more wrong.  There is at least as much diversity and beauty in Guimaras as any other province – just all packed in a smaller space!  Some of the many things to see and do include spelunking (caving), snorkelling, hiking, biking and sampling many of the unique cuisines found here.  There are many wonderful white sand beaches, crafts, lighthouse ruins and a Trappist Monestary.  Major industries to see include agriculture led by the huge mango plantations, fishing, renewable energy and eco-conservation projects.  Go island hopping from one of the many resorts which cater to visitors on a budget to the high end.  The colorful Manggahan Festival, dedicated to the mango industry is held between April and May every year.
Baras Cave / Buho Ramirez Cave
Baras Cave, also known as Buho Ramirez Cave, is a small cave located in Barangay Lawi and reachable only by boat.  The cave has three openings and at low tide can accommodate small boats.  It has been described by some as a much smaller version of the Underground River in Palawan, complete with the bats.
There is no fee to access the cave.  Clear water can be found surrounding and within the cave.  Many find it a great place to swim inside and through.  You should have appropriate footwear to climb up and down the small rock formations.  The cave has been found to be a good source of spring water and potential water source two nearby barangays.
Daliran Cave
Just a 10 – 15 minute jeep or tricycle ride from Buenavista Wharf is Daliran Cave.  The walk to get there is said to be better than the cave itself.  The cave features bats and plenty of stalactites and stalagmites.  As the cave is dark inside, be sure to bring a flashlight  and good shoes.  Tour guides can be hired at the local Daliran Spring Resort..
Guisi Lighthouse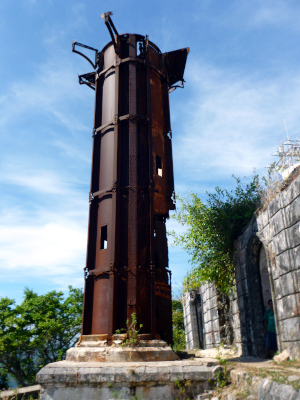 The Guisi Lighthouse is an 18th century Spanish-colonial lighthouse built by the Spanish government between 1894 and 1896 and is the second oldest lighthouse in the Philippines.  Known as Faro de Punta Luzaran during Spanish times, it served as a navigational aid to the fishermen and sailors in the Panay Gulf.
Today the lighthouse is a ruin and not in operation.  Only the rusty remains of the original tower remain.  A newer replacement lighthouse was built by the Philippine Coast Guard and is also located here.   The area is home to the ruins of the lighthouse as well as the original buildings.   From the lighthouse point you will have stunning views of Guisi Beach, the Guimaras Strait and amazing rock formations.   The combination of old world ruins and history with some of the best views in the province make this trip well worth the time.
The lighthouse can be reached by following a trail from Guisi Beach.  The uphill trek takes about 15 minutes and there is a P10 entrance fee per person.  More complete descriptions of the area with photos can be found on the blog sites by Lakad Pilipinas and Katherine Cortes.
Oro Verde Mango Plantation
The Oro Verde Mango Plantation near Buenavista is the largest productive mango farm in the Philippines.  Covering an area of 237 hectares it is comprised of 42,000 trees.  There is no entrance fee and visitors consistently report a peaceful and nice visit to the farm.   If you are expecting to see mature mangos the best time to visit is from March through June.
Sad-Sad Falls
Sad-Sad Falls is a small but beautiful waterfall outside of the town of Jordan.  It's a kilometer away on the Jordan-Nueva Valencia highway just beyond the Trappist Monastery.  The falls cannot be directly accessed from the road.  The hike is said to be challenging up a steep incline.  In rainy weather it is known to be slippery, so be careful.  After completing the scenic hike, the visitor is presented with a waterfall with about a 150 foot cascade dropping into a cool natural pool.
San Lorenzo Wind Farm
The wind farm in San Lorenzo is one of the largest wind turbine facilities in Asia.  Operated by the Trans-Asia Renewable Energy Corporation (TAREC), a division of Trans-Asia Oil and Energy Development Corporation, it consists of 27 wind turbines.   Each turbine is capable or producing 2 megawatts of power for a total of 54 megawatts total.  The generated power is distributed to various power utilities in Cebu, Negros and Panay.  Each wind turbine measures 40 meters wide and 80 meters tall which can be seen up close.  Entrance to the facility is P 10 per person.
Marine Recreation
If you enjoy fun on or in the water, you've come to the right place.  The area is rich with many beautiful white sand beaches.   Many of these can be reached by land, whereas others are a short boat ride away.   Many island hopping tours are available allowing visitors to experience several islands in a single day.   For those not on a tight schedule, being able to relax and explore the entire area is even better.
Several of the more well-known destinations are described below where one can relax on a beach, swim, go snorkeling, go hiking, find new caves, or explore the area marine protected areas.   
A note on snorkeling: the Panay Gulf area is home to many fisherman who survive by fishing these waters.   Over the years the area in general has in some areas become over fished with widespread destructive practices damaging and in some cases killing off some ecosystems.  For this reason finding pristine snorkeling or diving locations can be a challenge.   The marine protected areas described below are your best bet in this region.   These projects, similar in nature to the conservation work in Apo Island (Southern Negros), are making progress and hopefully the marine ecosystem and health of the fishing industry of the entire region can be restored.
Alubihod Beach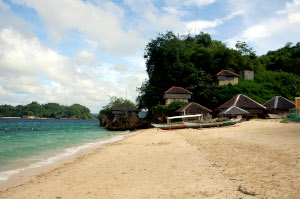 Alubihod Beach, a 45-minute walk from Nueva Valencia town, is one of the most popular beach areas on the island.  It serves as a main jumping off point for island hopping but also is a nice holiday and relaxing destination of its own.  The clean white sand  beach, clean blue sea and gentle waves provide for excellent swimming for the whole family.  Several resorts and eating establishments are within walking distance.
It is easy to arrange for island hopping at the beach.  Rates are generally about P 400 – 500 for the first hour and P 150 for each additional hour.  Rates vary by provider, number of guests on the boat and the provider.   Most popular island hopping destinations can be reached within 15 – 20 minuts of Alubihod Beach.
Ave Maria Island
This small, uninhabited island is located in the town of Lawi, Guimaras, Barangay Lawi.  There are no available overnight cottages or picnic huts in this area and overnight camping is prohibited unless approved by the local caretaker (no information on how to contact).  The beach is surrounded by crystal clear waters and is great for relaxing, swimming and snorkeling.  There is a published report on jellyfish having been spotted in the area so be careful.  The island is next to Turtle Island, so close in fact that some have been able to swim between the two.
Ave Maria is small yet undeniably charming.  Many consider it to be the nicest and most comparable to Boracay in the area.
Guisi Beach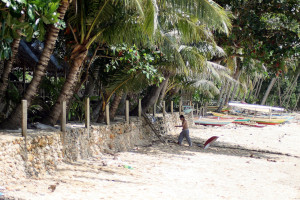 Guisi Beach is located adjacent to the Guisi Lighthouse (see above).  The crystal clear waters around the beach provide a child-friendly swimming environment in good weather.   It has been reported that the waves can get strong in other weather conditions though.  This secluded beach makes a perfect getaway from more crowded beaches such as Alubihod Beach.  Snorkeling is said to be reasonable here (see above comments about snorkeling).  There is accommodation here but the reviews have not been favorable.   It's best to check current reviews though as there have been some recent renovations in the area.
Overall Guisi Beach is a beautiful, family-friendly and secluded beach great for relaxing, swimming and possibly snorkeling.  If you're up for the short hike up the hill, the Lighthouse area provides a wonderful view of the entire area.
Igang Bay Marine Research
The John B. Lacson Maritime Foundation University (JBLFMU) in Iloilo City, Philippines operates the JBLFMU Eco Park in Nueva Valencia, Guimaras in partnership with the Government of Nueva Valencia. The park is home to the Igang Bay Marine Sanctuary, and includes white sand beaches, a mangrove forest, a butterfly garden, coral reefs, a resort, and a student training facility. The Eco Park's goal is to conserve and rehabilitate the area's marine resources in a sustainable fashion by working with the local communities, and it also aims to act as a center for ecotourism, research, and public education.
The Marine Research facility is also known as the Igang Marine Station (IMS) of the Southeast Asian Fisheries Development Center (SEAFDEC), an Asian International organization with a mission "To promote and facilitate concerted actions among the Member Countries to ensure the sustainability of fisheries and aquaculture in Southeast Asia".
The center breeds and studies different species of fish and other marine life, including giant grouper (lapu-lapu), pompao, seabass, red snapper, milkfish, abalone and giant clams.  They also do work on coral restoration.
The center has a P 25 entrance fee and conducts tours of the facilities.  It is reported that they have overnight accommodations for visitors but we were not able to find any details.  Travel reports from previous visitors are all very positive suggesting this should be on your must-see list when visiting the province.    You can also follow the center on their Facebook Page.
Note: we plan to visit the area soon and will try to verify and clarify as much as we can here and post the updates ASAP (including detailed photos in the Gallery section).
Taklong Island National Marine Reserve
The Talkong Island National Marine Reserve (TINMAR) is located in Nueva Valencia off the southern end of the island of Guimaras and is one of the 372 designated marine protected areas in the Philipppines.  A marine biological station run by the University of the Philippines Visayas (UPV), this is an area of natural beauty and wildlife diversity.  In addition to its research and conservation mandates, it is also a growing destination for ecotourism.
The TINMAR covers over 1,000 hectares which include mangroves, seagrass beds, coral reefs of high biodiversity, various birds, reptiles, and mammals.  Piagau Islet is considered as one of the most visited beach areas in the area where several structures such as a viewing deck, gazebo, information center, and conference room are located.  The UPV Marine Biostation is a research and educational facility maintained by the Division of Biological Sciences, College of Arts and Sciences, University of the Philippines Visayas.  Since the 1970's, the UPV-MBS at Taklong Island has been the field station for courses in ecology and field biology, plant and animal systematics, and maring resource management.  Through the years, it has evolved as a venue for research, extension and training activities of the UP Visayas.
When visiting the area, be sure to fist stop by the DENR (Department of Environmental and Natural Resources) office for registration and a small donation.  The very helpful staff here can guide you more on the reserve and direct you to the mangrove tour and the best snorkeling destinations.
Activities in the area include the mangrove tour, snorkeling, diving, beaches, swimming, hiking and exploring several of the nearby caves.  The surrounding waters are said to host a variety of marine life.   Snorkeling is good with many beautiful corals to be found.  Swimming opportunities are plentiful on the nearby beaches as well as in the floating cottage.  There is a local watchtower which provides a full 360-degree view of the island, islets, and surrounding sea.  An eco trail provides nice hiking opportunities with several caves to explore.
With the permission of the management of TINMR and the University of the Philippines Visayas, a limited number of visitors are allowed to spend the night at the station.  Contact UPV for more information.
Tatlong Pulo Beach
Tatlong Pulo, or "Three Islands" beach is about a half hour tricycle ride from Jordan.  It is a nice and somewhat secluded white sand beach.   The water is reported to be clean with some snorkeling opportunities in the area.  Services in the area are limited with 24/7 electricity only available at the Sinoguora Beach Resort.  The other resort here, the Tatlong Pulo Beach Resort, has very basic facilities, with no power.   A few beach huts are available.
Reports on the beach are generally very good, as long as you are comfortable with basic services.  The road to get there is a bit rough and bumpy, but there are several methods of transportation, including boat charter from Jordan Wharf.
Turtle Island
Turtle Island is part of a marine reserved area and is located next to Ave Maria Islet.  It used to be a sancturary for sea turtles, also known as pawikan.  There are a few turtles still living on Turtle Island but most young turtles are transferred to nearby Lawi Marine Turtle Rescue Center after hatching.  After being nurtured and cared for over several months, the young turtles are released back into the sea.
Some turtles still come back to Turtle Island to lay their eggs.  A few still live here and can be seen when visiting.  When visiting you need to register and there is a small entrance fee.
Manggahan Festival
The Manggohan sa Guimaras Festival, is a month-long celebration of local culture culminating on May 21 – 22, the day that Guimaras was proclaimed a province in 1992.  Celebrating the mango industry, festivities include dance parades, contests, exhibits featuring mangos and mango-related industries, food bazaars, live band performances and more.  During the festival, locals wear mango-inspired costumes and design mango-themed floats in a parade that makes its way around the island.  Pastries and confectionery with mango ingredients, as well unprepared mangos, are also sold in relatively large quantities.
Manggahan Festival proper is scheduled on May 11-22. Major activities are held at the Guimaras Provincial Capitol Grounds in Brgy. San Miguel, Jordan.
Patilaw sa Manggahan
The Manggahan Festival kicks off with a grand caravan around the province and followed by the "Patilaw sa Manggahan" exhibit held in Iloilo City malls as early as the first week of April. The event officially opens the month-long celebration and gives local tourists and shoppers a taste of what's in store during the festivities.
'Patilaw' shows that Guimaras is more than just mangoes as it features various food products from the province such as crispy cashew nuts, peanuts, pastillas, ginger cookies, soya polvoron, dilis and more. Mango-based snacks such as dried mango slices, mango tart, mango piaya, mango concentrate, mango jam, etc. are also available at the exhibit.
Manggahan sa Kabanwahanan
To further expand the festival, Guimaras brings the spotlight to each town of the province through the Manggahan sa Kabanwahanan. This activity is an avenue for municipalities to attract tourists and generate income by promoting their local products and showcasing their distinct culture.  The usual schedule is:
First week of April – San Lorenzo
Second week of April – Sibunag
Third week of April – Nueva Valencia
Fourth week of April – Buenavista
First week of May – Jordan
Transportation
Getting There and Back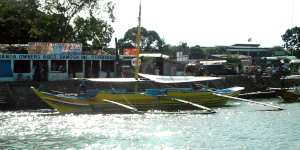 Guimaras is accessible by air and sea from Manila and other points in the Philippines, via Iloilo City and Pulupandan, Negros Occidental.  Ferries, boats, and other seagoing vessels operate regular services to and from the province.  The most common route is between Iloilo City and the Jordan port in Guimaras.
Several ferry providers operate the Iloilo-Guimeras routes from various ports in Iloilo City to and from Jordan and other locations in Guimaras.  The most popular departure locations seem to be either via the Ortiz dock or the Parola Wharf.  Roll-On/Roll-Off (RORO) service is available at the Parola Wharf.  The crossing time varies between providers however most take about 15 to 30 minutes each way.
Pump boat service connecting the town of San Lorenzo to Pulupandan in Negros Occidental is also an option.  We were unable to verify this route with any of the ferry operators.  Several of the Iloilo routes have been reported on other sites to be questionable.  As services seem to come and go it is best to contact the ferry operators directly before making your travel plans.
More information about Guimaras ferry services:
Getting Around Guimaras
The best way to tour Guimaras is by renting a motorbike, tricycle or multicab along with a guide.  These are easy to come by upon arrival at Jordan Port.  Go to the Tourism Center a few meters from the drop-off point to inquire about budget accommodation and transportation assistance.  Land tour tricycle rates (good for 4pax) usually start at P 1,200 and goes up to P 1,500 depending on the places you wish to visit.
Location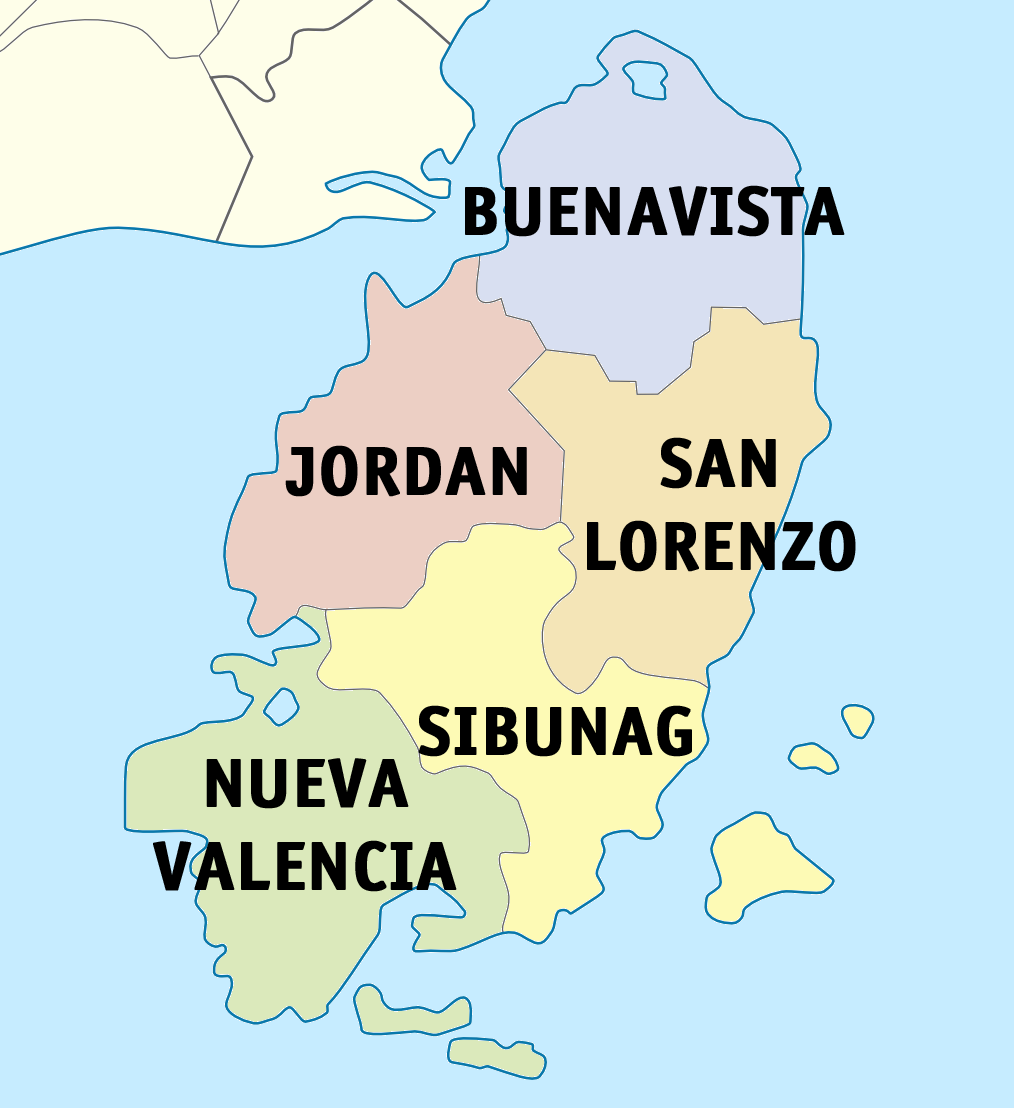 The Province of Guimaras is an island province in the Philippines located in the Western Visayas region. The capital is Jordan, while the largest local government unit for it is the municipality of Buenavista. The province is situated in the Panay Gulf, between the islands of Panay and Negros. To the northwest is the province of Iloilo and to the southeast is Negros Occidental.  The province covers a total area of 604.57 square kilometres (233.43 sq mi) occupying the southeastern section of the Western Visayas region.  Formerly known as Himal-os, Guimaras was a sub-province of Iloilo until it was made an independent province on May 22, 1992.
Guimaras Province has a total coastline length of 470.29 km and covers a land area of 60,457 ha. It consists of eight islands and has four major rivers, namely the Igang River, Sibunag River, Cabano River and Mantangingi River. The province has generally gently sloping to rolling topography with land elevation ranging from zero to 300 m above sea level.
Municipalities
The province is composed of five (5) municipalities and ninety-eight barangays (villages) with Jordan as the capital.  Each municipality has its own unique features.  Jordan, the second oldest town is considered the primary growth and commercial center and gateway to Guimaras.  Buenavista, the oldest municipality, is the center for higher education, considered the secondary growth center and alternative gateway to Guimaras. Nueva Valencia is the tourism capital and a major fishing center.  San Lorenzo produces fish and is a commuter gateway to Negros. Sibunag also produces fish and is a cargo port of entry linking Guimaras to Negros.
The population of Guimaras in the 2020 census was 187,842 people, with a density of 310 inhabitants per square kilometre or 800 inhabitants per square mile.
There are 17 outlying islands surrounding the mainland of Guimaras which are under its jurisdiction:
Ave Maria Island
Balingasag Island
Inampulugan Island
Isla Margarita
Guiwanon Island
Lusonan
Magic Island
Naburot Island
Nadulao Island
Nagarao Island
Nalibas Island
Nalunga Island
Nauway Island
Pamancolan Island
Panobolon
Sereray Island
Taklong Island
References